About Us
We at Tomer Machines (TM) have made our mark in the Indian industry as the most technically progressive, customer friendly and trustworthy firm. Under the leadership of Mr. Krishan Kumar Tomer, we are serving as a manufacturer of an extensive range of wire drawing & cable production machines & their relative spare parts. The qualitative range offered by us including Wire Rewinding Machine, Pay Off RBD, Wire Machine Flyer, Coil Binding, Drawing Machine, Wire Drawing Machine, High Speed Fine Wire Drawing Machine, Intermediate Wire Drawing Machine, Copper Rod Breakdown Machine and more items always remains in heavy demands among the customers due to fine built quality, compact design, modern structure, superior performance and many more attributes. Their budget saving prices also make them the best products available in the wire drawing & cable production market.
Through our innovative marketing techniques and effective customer relation management practices, we are enhancing our presence in the industry with time. We have deep understanding of the rising expectations of customers from our products as well as services. Therefore, we are continuously walking on the path of improvement and upgradation.
Ultramodern Infrastructure
At our modern and sound infra set up in Ghaziabad (Uttar Pradesh), we have installed world class tools, software, equipment and devices that are useful for the resistance-free production of items. Our unit located on the outskirts of Delhi at Trans Delhi signature city enables us to deal with large quantity of Coil Binding, Wire Machine Flyer, Intermediate Wire Drawing Machine, Copper Wire Drawing Machine and other items with absolute quality control. The entire setup is built and arranged in a manner through which we can handle multiple processes simultaneously, and complete each consignment within scheduled frame of time only.
Our Strengths
Today, we are thriving and expanding in the Indian industry at an exceptionally fast speed. A large number of customers from different sectors are preferring us over other suppliers. All this is successfully becoming possible due to our strengths, such as:
Outstanding teamwork and management
Our values, beliefs and experiences
Futuristic approaches towards production & marketing
Our quality management system and policies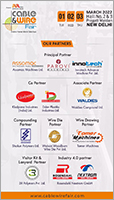 Read More